AUTOS MAHON RENT - Car hire, motorbike hire and bicycle hire in Menorca
Welcome to Autos Mahon Rent
We have a wide variety of rental vehicles, cars, motorcycles of different capacities from 50cc to 250cc all have a trunk to keep the two helmets inside to enjoy your stay in MENORCA.
Consult our offer of the month in rental vehicles.
Our office is located on Moll de llevant 35-36, 200 meters to the left of the station porth of Mao, Transmediterránea, Balearia and the cruises.
Deliveries throughout the island, except in Ciutadella.
24 hours service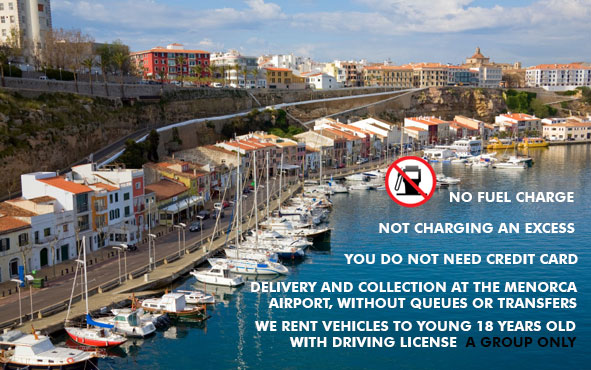 Our car rental offices in Menorca
c/ Moll de Llevant nº 35-36 - 07701 - Maó - Menorca
We have opened a new office in Arenal den Castell
c/ Estrella nº 14 - Arenal d'en Castell (Hotel Paraiso entrance) - 07740 - Mercadal - Menorca
NOVELTY 2018
Autos Mahon Rent recommends and rents boats from our offices with

Menorca Mar & Charter
boat rental company in Mahón
www.barcosenmenorca.com
C/ C/Moll de Llevant 35, 07701 Maó
+34 689 44 11 55
Antiga Meloussa Charter sailing excursions
www.menorcaenvelero.com;
contacto@menorcaenvelero.com
+34 629 930 406
ZOO MENORCA
LLOC DE MENORCA
www.llocdemenorca.com
telf: +34 971 37 24 03
AQUA CENTER
Calan Blanes - Ciutadella
www.aquacenter-menorca.com
telf: +34 971 38 87 05